Bullmastiff breeders in California
Our Sires
Barron is a new up and coming male from Chile.
More photos of Baron, taken 8/19/2021

Gus 10 months old . My Serbia baby . Just having fun talking pictures . taken 9/19/21
Ace is a handsome male
more beautiful pictures of Ace in slideshow below
Pictures of Ace taken 7/29/21
Meet Tater
Tater came to us from Russia.
More pictures of Tater. These were taken 9/19/21
Our Dames
Meet Breezy-She is our beautiful red female and has just recently had her first liter of puppies.
Meet Sophia-our beautiful red mamma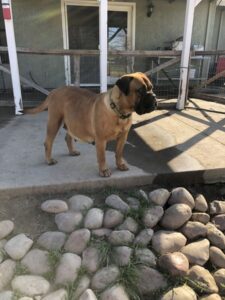 Meet Page-A gorgeous fawn
More images of Page in slideshow below
Look at my Girl . Be My Keeper Girl Go Wild (Italy) aka Paige . She has turned out to be amazing

Meet Shelby-Our Beautiful Brindle Momma
more beautiful images of Shelby in the slideshow below.
Meet Peach
Meet Bailey
Our Beautiful Trixie–Cannot wait to breed her. She will make beautiful babies.
Meet our gorgeous Misfit. She is our little troublemaker.
More images of Misfit
Meet Blaze. We will be breeding her next.